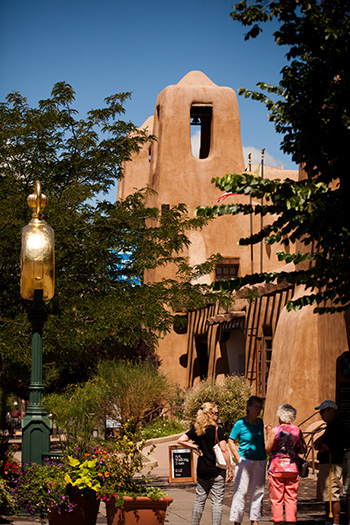 Santa Fe
Santa Fe is nestled in the Sangre de Cristo Mountains, the southernmost sub-range of the Rocky Mountains, at an altitude of just over 7,000 feet. The city occupies over 37 square miles in the upper Rio Grande valley just below mountains that reach above 12,000 feet. Thousands of acres of national forest and wilderness surround the city, and yet it is only one hour's drive to the Albuquerque International Airport and 15 minutes to the Santa Fe airport.
Founded in 1610 and known as the "City Different", Santa Fe is the oldest state capital in the United States. The City's signature adobe architecture, tree-shaded Plaza, and winding streets make the city feel more like a foreign destination than one of America's most historic places. Its friendly people, laid back pace, temperate climate, and welcoming hospitality make this distinctive city one of the top destinations in the country.
Features that make Santa Fe great for many visitors with companions/families are: wonderful arts and crafts galleries, excellent museums, many fine and varied restaurants, enjoyable special performances including the Santa Fe Opera in summer and Spanish Dances, and famous Indian Pueblos nearby.
With its high elevation, Santa Fe's climate is typical of a high mountain desert, with low humidity, a lot of sunshine, and rather large changes between day-time and night-time temperatures. Typical day-time temperatures should be in the range 83-85 F (28-29 C) and at night around 50 F (10 C). An occasional afternoon rain shower is common during the summer season.
Museums
Visit Santa Fe's museums and wake up the artist within youǃ There is a good reason that Santa Fe has drawn artists like Georgia O'Keeffe here for generations. Whether you are 7, 17 or 70 years old, get inspired by the rich blend of history, arts and cultural heritage with more than a dozen state and private museums around Santa Fe. Remember to look up every once in a while, the Santa Fe sky with it's vivid colors and clouds can be the best canvas of all.
Restaurants
Santa Fe's culinary arts scene is sizzling, so when you pack for your trip, make sure to bring your appetite! Santa Fe is a food lover's paradise. Ask the locals to name their favorite Santa Fe restaurants and you'll end up with a lengthy list of worthy choices. Innovative Southwestern fare created by award-winning chefs and hearty New Mexico dishes such as breakfast burritos and green chile stew are reason enough for Santa Fe to have earned a prominent place on the world's culinary map. If you're hungry for creative contemporary cuisine or Asian, French, Italian, Indian or Middle Eastern cuisine, you'll find them all here as well. Please check out the multitude of options at http://santafe.org/Visiting_Santa_Fe/Dine/index.html
Outdoors
Once you arrive in Santa Fe, the highest capital city in the United States, it's obvious that you're not in Kansas anymore. Courtesy of its high altitude, the City Different enjoys 320 days of sunshine, all four seasons, brilliant blue skies and some of the purest air in the world. Santa Fe sits 7,000 feet above sea level in the southernmost Rocky Mountains and has 12,000 foot mountain vistas. It's tucked into a valley of the Rio Grande, surrounded by 1.5 million acres of unspoiled national forest filled with juniper, pine and aspen. Read more at https://santafe.org/Pillars/Pristine_Nature/index.html#rbAOl5ZFMqsC4cdA.99